NOTE: This post may contain affiliate links or links to Amazon. If you choose to purchase anything through these links, I may earn a commission at no cost to you. As an Amazon Associate, I earn from qualifying purchases. Please refer to our Disclaimer page for further details.
If you are a true bargain hunter, you know that you will almost always find the best deals on products in their off-season. Given that it's late spring, this is a wonderful time to save on Christmas decor. Sure, you may not be able to use it for awhile, but come the Christmas season, you will have what you need to decorate festively, and know you saved money at the same time.
Here are nine festive Christmas Doormats on sale. These are top-quality mats from Frontgate, Grandin Road, and Kirkland's, so you know the construction is solid and each doormat will hold up against foot traffic and weather for some time.
Scoop yours up quickly, because you never know how long these deals will last!
Christmas Doormats On Sale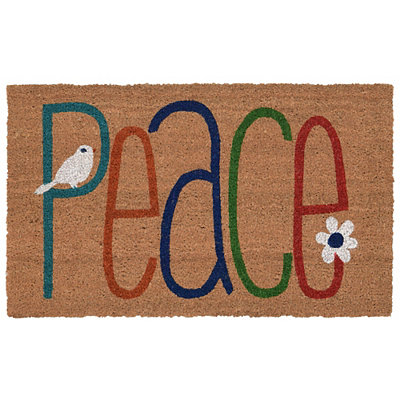 This colorful, whimsical doormat is thoroughly modern, and feels very playful at the same time. The word PEACE is written in large, childlike print, and accented with a white dove and a white flower. Colors include blue, orange, red, green, and white on a tan mat.
Mat measures 30L x 18W x 1H in. Crafted of 100% coir pile front and vinyl back. Machine-made.
Available from Kirkland's.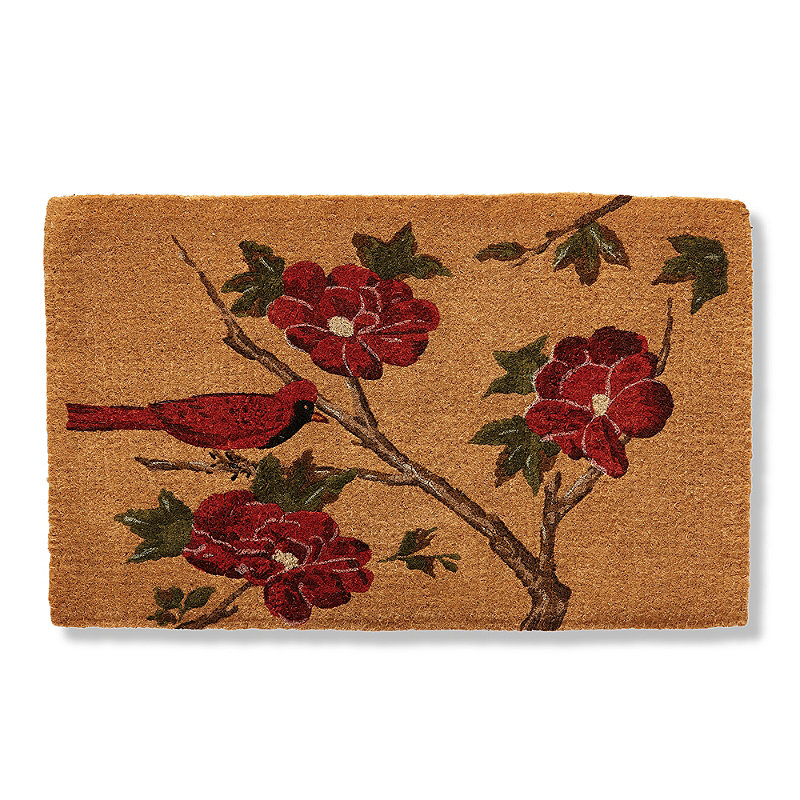 A single cardinal resting on a flowered branch adorns this eye-catching Christmas doormat. Shades of red, green and brown on a tan background.
Densely woven coir fibers scrub dirt and debris from shoes and absorb moisture without promoting mildew. Natural coir fibers are woven into a dense pile for ultimate durability. Cut to a full 1-1/2″ pile, the mat retains its shape and wont slip. Great for a front door that sees heavy traffic or severe weather.
Available from Frontgate.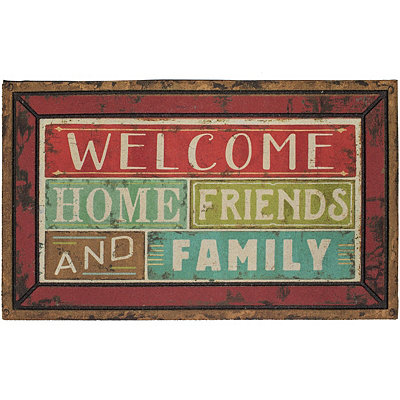 Our Friends and Family Welcome Doormat features a warm greeting for all your cherished loved ones. While not limited to the Christmas season, it certainly sends a Holiday message of welcome. You'll love its rustic finishes and bold, block-style print! Colors of red, blue, green, and brown.
Doormat measures 30L x 18H in. Crafted of 100% recycled rubber backing with 100% recycled polyester flock face.
Available from Kirklands.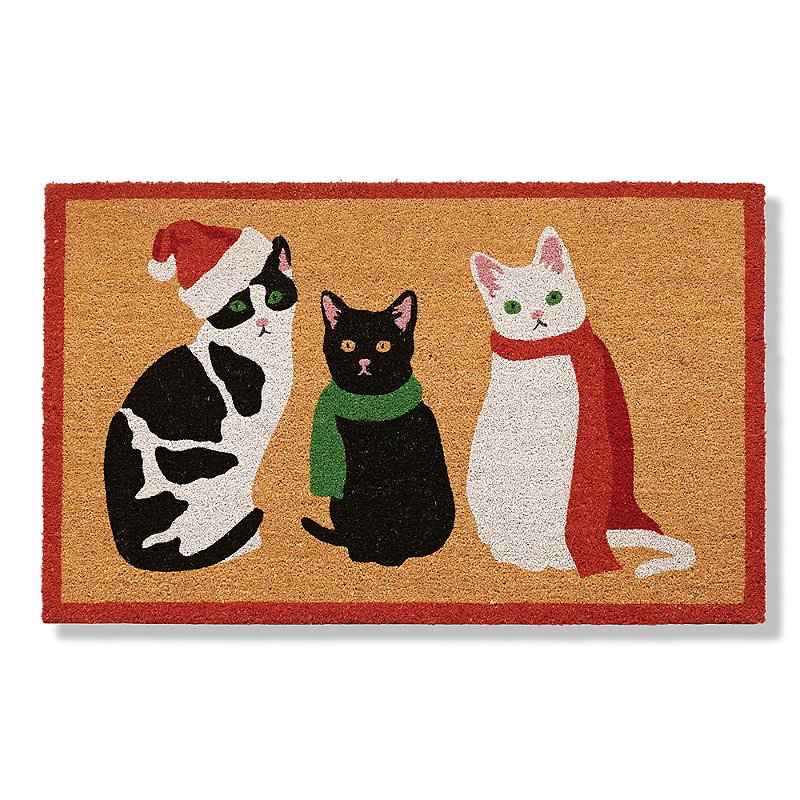 A festive entryway accent for animal lovers, especially those who have a cat (or two, or more!). Three adorable felines in holiday scarves and hat await the arrival of your next visitor. Colors of black, white, red, and green on a tan mat with red border.
Woven of durable, 100% coir fibers with sturdy vinyl backing, this charming mat is sure to be a holiday fixture for years to come. The tough, dense bristles protect your floor by grabbing mud, sand, water and dirt, while also standing up to the elements.100% natural coir fibers. Hand-stenciled using fade-resistant dyes. 100% natural and biodegradable. Vinyl backing.
Available from Frontgate.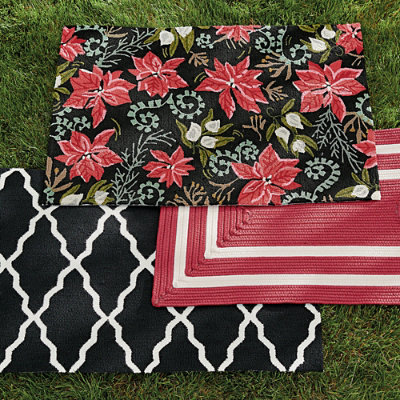 Greet every Christmas guest at the door with the season's most iconic bloom. Our exclusive Poinsettia Outdoor Mats blend festive charm, stylish sophistication, and all-weather performance. Red poinsettias stand out on a black background along with stems and leaves in varied shades of green.
Durable, hand-hooked polypropylene . Resists fading, moisture & wear, this mat can be used outdoors. Crafted from 100% polypropylene.
Available from Grandin Road.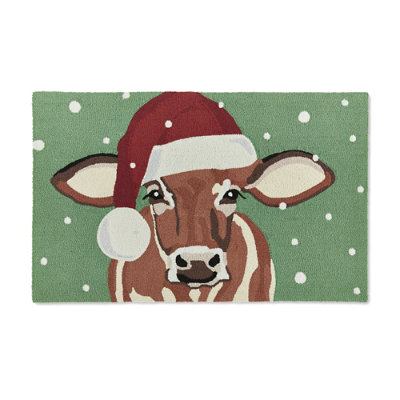 Moo-ry Christmas! Our Santa Cow Hooked Door Mat will give every visitor a hearty chuckle! Brown cow wearing a red Santa hat on a snowy green background.
This mat is handcrafted from durable polypropylene, so it s perfect outdoors or inside, it s easy to clean, and ideal for lots of busy foot traffic.1/2″" pile. Material may experience natural weathered patina over time, these changes will not affect the integrity.
Available from Grandin Road.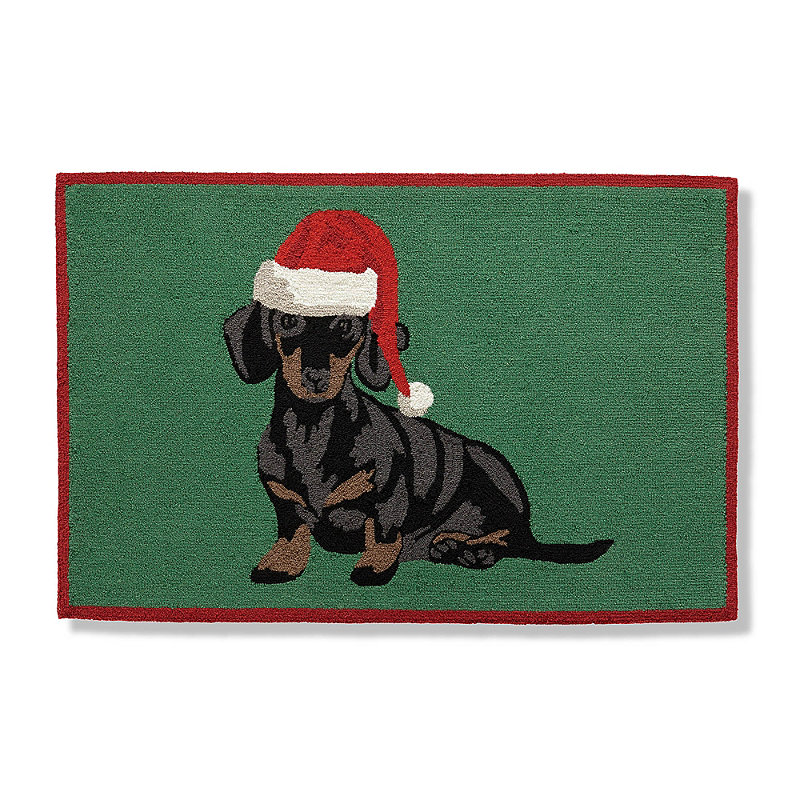 Create a festive entryway accent that dog lovers will adore. Hand-hooked and durable, this red-trimmerd mat features an adorable black and tan Dachshund on a green background. Also available with a Frenchie.
Crafted of hand-hooked, weather-resistant fibers, this charming door mat is a blend of comfort, whimsy and durability. 80% polyester and 20% acrylic. For indoor or outdoor use.
Available from Frontgate.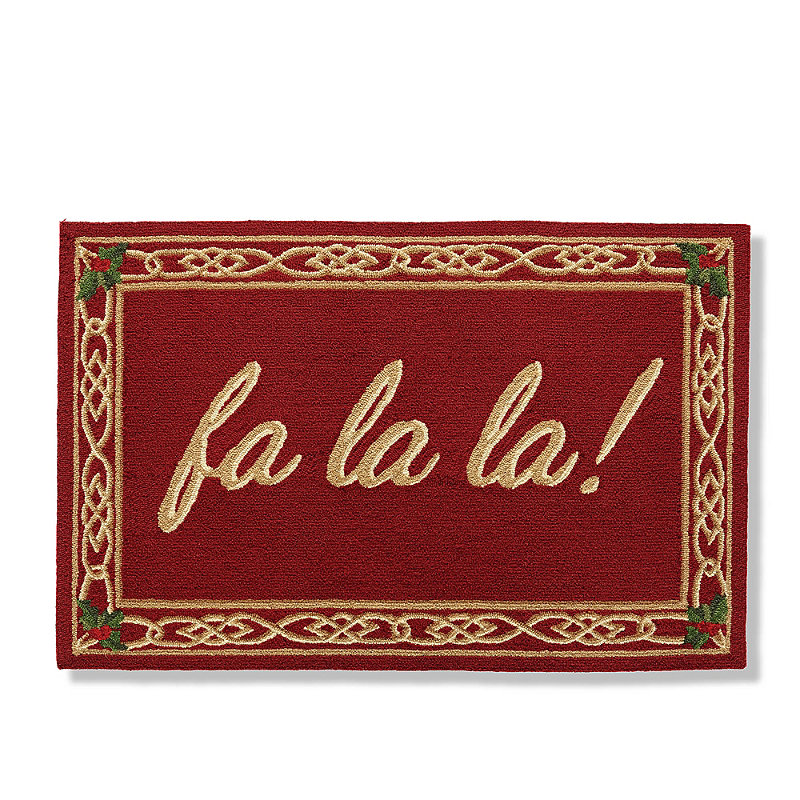 Greet your guests with the joy of Christmas music – at least at their feet! The bright red background highlights script "fa la la" and is bordered in an elegant gold twist. Holly leaves and berries adorn each corner.
Hand-hooked of weather-resistant polyester fibers, this festive design features everyone's favorite holiday saying and wonderfully evokes the traditions of the season.
80% polyester and 20% acrylic . For indoor or outdoor use.
Available from Frontgate.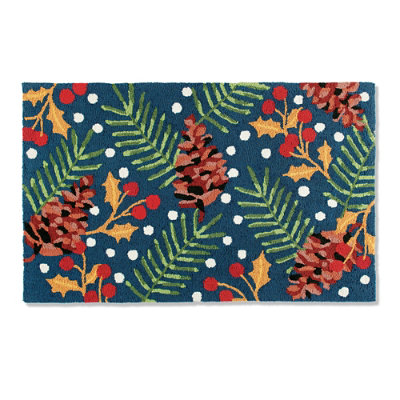 The bright colors of this mat seem to shout "welcome" to all who stop at your doorstep. Pinecones, berries, holly leaves, and pine sprigs burst from a blue background – and are those snowflakes all around?
Our Festive Foliage Hooked Door Mat is handcrafted from durable polypropylene, so it s perfect outdoors or inside, it is easy to clean, and ideal for lots of busy foot traffic.
Available from Grandin Road.
What to Read Next:
Key Takeaways from Christmas Doormats – Off-Season and On Sale!
Did you find your perfect doormat for the coming Christmas season?
Whenever possible, it's always wise to seek out seasonal decor on sale in the off-season. Your money goes so much farther, while giving you the quality and selection you want.
These holiday mats cover a wide range of decor styles, from traditional to modern to whimsical. Use them to convey your personal message to your visitors and guests.
You may have to store your special deals for a few months, but when you find steep discounts like these, it's always worth taking the time to plan ahead for your decorating needs.
Amazon and the Amazon logo are trademarks of Amazon.com, Inc, or its affiliates.